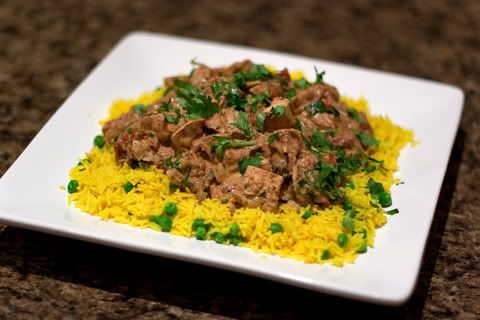 For my newer readers, I've done a series of posts entitled "What Heather Had For Dinner," or WHHFD (in case you were confused about the acronym). These are purely casual posts, highlighting some of the random meals I whip up. It's just a way for me to rant or rave about a particular dish while practicing my food photography. I love to cook, but I don't blog about everything I cook because then my passion would turn into an obligation, and that's never any fun, is it? I also have yet to set myself an insane goal like cook an entire cookbook in 365 days a la Julie from the new movie "Julie & Julia," because, much like her character, I'm afraid I would turn into an obsessive-compulsive neurotic mess. Also, like her, my relationships would undoubtedly suffer
And yes, I've already seen the movie. Twice. Just kidding! Only once. I dragged Tony along (although, if he'd had any clue what it was about, I'm sure he would have put up a fight), and I thoroughly enjoyed it. A movie about Julia Child AND a food blogger? So totally up my alley. I got to see shots of flame-colored Le Creuset in nearly every scene
Anyway, back to the recipe. I pulled this recipe for Chicken Tikka Masala from the Pioneer Woman's recipe files. While the dish as a whole didn't blow me away, there were several techniques that I was very happy to come away with. It's not too spicy (much to Tony's disappointment), but it is still quite flavorful and the colorful presentation makes it a fun dish for guests. You can always bump up the heat by adding more cayenne pepper or serrano peppers. If you love Indian food, or perhaps have been a bit timid to try it, PW's step-by-step photo directions offer an excellent introduction to cooking it at home.
Pastor Ryan's Chicken Tikka Masala
Adapted from: Pioneer Woman Cooks!

Ingredients:
3-4 chicken breasts
1/2 cup plain yogurt
6 tbsp butter
1 1/2 cups heavy cream
28 oz. can petite diced tomatoes
1 large onion, diced
4 cloves garlic, minced
1 x 2 in. chunk of fresh ginger, minced or grated
ground coriander
cumin
3 Tbs garam masala (Indian spice blend. PW describes it well here. You can make it yourself, or find it in the ethnic section of most grocery stores, or save yourself some money and buy just enough for the recipe from the bulk section of your local market)
salt
sugar
2 cups basmati rice
4 cups water
Optional (but strongly suggested):
fresh cilantro, chopped
1-2 chili peppers (serrano or jalapeno work well), sliced
cayenne pepper
1 Tbs turmeric
frozen peas
Naan bread
Directions:
Start by seasoning the chicken breasts with some salt. Next sprinkle them on both sides with some ground coriander and cumin.  Then coat the chicken breasts completely with the plain yogurt. Set the chicken on a metal cooling rack over a foil-lined baking sheet and place it about 10-12 inches below a broiler for 5-7 minutes per side. Watch carefully so as not to totally char the chicken. It should have slightly blackened edges. Remove from oven.
In a large skillet, melt 2 Tbsp butter over medium-highheat.  Toss in the onions and saute until they are slightly browned. Add the garlic and ginger to the onions. Also throw in about 1 Tbsp salt. Reduce heat to medium.
Next you are going to add about 3 Tbsp garam masala. If you like it hot, add the sliced chili peppers. Now add the can of diced tomatoes. Continue cooking and stirring, scraping the bottom of the pan to deglaze it. Add about 1 Tbsp sugar. Let this mixture simmer on medium for about 5 minutes.
To a rice cooker, add 2 cups basmati rice, 4 tbsp butter, 1 tsp salt, 1 tbsp turmeric, and 4 cups water. Cover, turn on your rice cooker and walk away. If you do not have a rice cooker, cook your rice as usual but make sure you use basmati rice. Optional: throw in some frozen peas into the cooked rice, give them a stir, and allow the heat of the rice to cook the peas. It tastes great and gives another nice dash of color.
After the Tikka Masala sauce has had a chance to simmer for a little bit, add in the 1 1/2 cups of heavy cream. Stir the sauce and taste-teste it for levels of spiciness and saltiness. If you'd like some extra heat, add a good dose of cayenne pepper. Now, chop up your chicken breasts into chunks and stir them into the Tikka Masala sauce.  A handful of chopped fresh cilantro is a nice addition if you like cilantro.  Serve the rice with the Chicken Tikka Masala over top, and some Naan bread on the side
Heather's Notes:
Note to self: I need to get a new metal cooling rack that is NOT black plastic coated and will NOT melt in the oven and will NOT leave weird residue on the chicken. Other than that small glitch, I really liked how moist the chicken turned out with the yogurt coating. So totally stealing this technique for future recipes. I would have to say that 10-12 inches from the broiler is a bit too far. Of course, I took the directions way too literally and got out my measuring tape…and then it ended up taking an extra 10 minutes per side to broil, and they still never developed the blackened edges. So, go with your gut and adjust the distance from the broiler accordingly. Just keep an eye on them because you don't want to totally scorch them to charred blithereens, either.
I would chop up all ingredients ahead of time next time, because I found that my chopping skills couldn't quite keep up to the sauteing onions. Also, I suggest the use of PETITE diced tomatoes. I used regular diced here. I think it would make the tomatoes blend into the dish better. Purely an aesthetic thing though. I'd use quite a bit more cayenne pepper next time. If you're not used to garam masala, then you might want to start out with a little bit less – it adds a rather sweet flavor (from the cardamom) that most people aren't quite used to. Also, this is a very hearty meal, so be forewarned…it's a bit heavy (but aren't all Indian dishes?). I think it could easily be made vegetarian (and equally delicious!) with the addition of baked tofu instead of chicken.
I'll definitely be making this rice again in the future, as an accompaniment to Indian dishes. Usually rice is so bland and boring, but the turmeric really gives it such a lovely punch of color!  Also, the rice cooker makes it a total cinch.