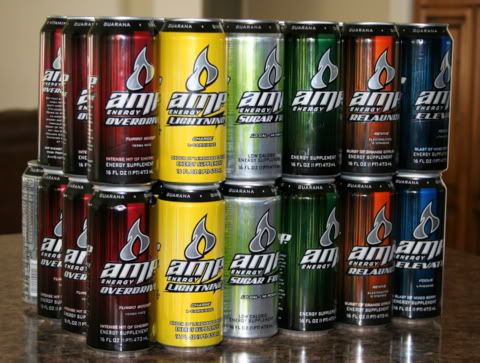 Check out them beauties. That's 40 cans of Amp Energy drink, that I paid ZERO out of pocket for. Minus two that Tony drank. These retail for around $2 a pop. At the Intel cafe, they sell for $2.25 each. Ouch.
You can get them for free through 7/29 at Fry's grocery store. Here's how:
The Amps are part of the Buy 10 get $5 off your order deal currently running at Fry's. They are $1.49 each, buy 10, take $5 off, makes them $.99 each. Your first purchase would be 10 Amps for $9.90 after the $5 for promo comes off, then a catalina for a $10 Kroger/Fry's gift card will print (make sure your register cat machine is working). You can then buy 10 more with card, get another 10 Amps, another card, etc. on & on. Rinse and repeat over and over until you've had your fill. I usually just take the catalina to the customer service desk and load the $10 onto the gift card before I check out, it saves time/hassle while checking out. So you pay $10 initially out of pocket, but in the end you have a $10 gift card you can use for groceries.
Thanks to my eagle-eyed mother for catching this deal and spreading it on the internets for all to enjoy. She was lucky enough to get $1 off coupons on eBay, so she's making $1 off each can she buys. At this point in time she has over 100 of them. Holy malarkey, that's a lot of free groceries.
And before anyone asks, yes, that is a lot of energy drinks, and no, I do not drink them. The only times I've been known to chug a few were around finals, and those times are long past. Tony, on the other hand, does enjoy them, so the stock is for him (and my visiting mother who is semi-addicted to them but won't admit it. LOVE YOU MOM.)
T says he can easily handle drinking 40 (or more) before they expire in January 2010. If not, I plan on having a massive "Amp energy and vodka" drink party. Sounds fun, right? Now I just need to find some free vodka. Ha.