Can you tell I'm back in school mode? Trying to finish a paper. And also breaking up my long monotonous hours on the computer with deal finding
Today, I got this delicious pair of dangly gold Lluvia earrings in the mail from Anthropologie (one of my favorite stores to browse – but never can afford!). They were on sale for $19.95, reduced from $38.00. *squeeeal*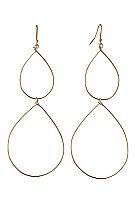 UPDATE: It looks like the earrings are sold out. Here they are modeled by the lovely Dooce on her About Me page. Yes, she was the inspiration for my purchase. I am one of thousands of Dooce admirers. She makes me laugh out loud more days than not, and her style is tasty (hehe, hence the delicious gold earrings).
I also just finally ordered a car charger for my cell phone so it won't go dead all the time when I'm away from home. Picked it up on eBay for a fraction of the cost.
Does it say something about my list of priorities when I buy earrings before necessary electronics?