One of my major goals for 2009 is to declutter. Tonight I tackled the chaos in my closet. Anyone who has peeked in there in the last 6 months knows what a feat this was. I wish I had taken "before" pics, but you'll just have to trust me on this one. It was a disaster. I had a minor anxiety attack every time I opened the door to retrieve something. It doesn't help that it's super tiny and has a horrible layout (what closet doesn't have bars long enough for hanging dresses? GRRR.)
Now, you can actually see the carpet!!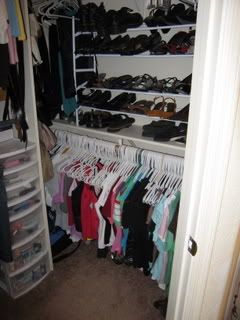 I was rewarded for my efforts by finding $15 cash and my long-lost calipers. I took a trip down memory lane while sorting through and disposing of all my old research papers and intern folders. According to my intern manager, my major area of development was my time management. Hmmmmm.
Now I have a small pile of clothes and shoes that I plan on taking to a consignment shop (Buffalo Exchange I guess?), as they're in pretty good shape and it would be nice to get some trade-in credit.
Overall, tonight was very productive. In addition to cleaning out my closet, I unpacked, uploaded my photos from the weekend, washed four loads of laundry, went to Walmart and replaced my alarm clock, hunted down some naptha soap, and scrubbed the mud out of my jeans and sneakers. Oh, and I bought a new tart pan off Amazon (I've been getting fresh lemons from coworkers and have my eye on this lemon tart recipe).