Well, I figured I'd hold myself accountable to my viewing public by giving a fitness update! I fizzled out on WSFL about the third week through. My last documented measurements were done on 10/19/08. I hit a rough spot, things got tough and I just wasn't interested in the program anymore. Plus I think I experienced an awful week of bloating and/or cravings that would have just made my final stats look awful, so yeah, I didn't see it to the end. There were several things I took from the program that I did like. Most specifically: the detailed meal planning, some yummy breakfast options (I love omelets with turkey bacon now!) and a few new exercises (the push-ups to prone jackknife is a killer ab work out). In three weeks I lost 8 pounds, which wasn't bad at all.
Fortunately, I was able to maintain a steady weight for a good month and a half (even through Thanksgiving!). Although I wasn't working out regularly due to an insane work/school schedule and extraneous life events, I was able to keep my eating in check, which kept my weight at a steady 166lbs. (Yes, I'm disclosing my weight…without numbers you can't show progress!)
To give you some perspective, when I went off Yasmin in August, I'd guess my weight was upwards of 178. When I actually got the courage to step on the scale and take the WSFL "before" photos, I weighed in at 174. Those were not pretty numbers, but for the majority of the six months I was on that dang pill, I was hanging out in the mid 170s.
And now it shouldn't be long before I'm back in the 150s again! I weighed in today at a new low of 161, down 13 pounds since 9/28/08. I haven't seen these numbers since March! I began working out 6 days a week about two weeks ago. Right now I'm just doing what I LIKE to do. Weightlifting and cardio, and what's proven to work for me in the past – Body for Life kind of stuff. I alternate upper and lower body weights every other day MWF and do cardio on TThSat. I work out at night, because I can NOT get myself out of bed early enough to go before work. I loosely follow the diet plan of WSFL. I've gotten on such a routine food-wise, that I just eat the same sort of thing day in and day out.
I had a fitness epiphany the other day. I can follow a really strict plan of high intensity circuit workouts similar to WSFL, but it won't work unless I follow it religiously and get my butt to the gym everyday and stick to the eating plan 100%. This rarely happens, since I always find excuses not to go, mostly because I dread the exercises. On the other hand, if I do what I actually LIKE to do, then I look forward to going to the gym everyday, and I end up losing more weight as a result!
In two weeks I've lost 5 pounds. So, apparently what I'm doing is working just fine
In case you're interested in seeing what 13 pounds of weight loss looks like, here's a side by side comparison. The first image is from 9/28/08 and the second was taken on 12/12/08.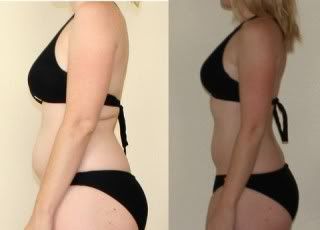 The side shots always show the most change, but you can see the reappearance of my waist in these back shots. The recent shot is also proof of my goofy sunburn in December! LOL.