Hello everyone. Yes, I'm still alive. Hopefully things will die down and I'll be able to return to regular posting frequency soon.
I hope everyone had a lovely Thanksgiving and was able to enjoy some quality time with their families. I spent the first half of this week in bed sick with some sort of mutant flu, but I have enjoyed spending the rest of the week with my family and seeing my adorable cousins from Colorado. (Pictures to follow).
I didn't have to think about what to bring to Thanksgiving dinner this year, since my grandma requested a repeat performance of my squash casserole dish. She apparently loved it, so I was happy to oblige her. Of course, who wouldn't love a southern casserole in all its cheesy, buttery glory!!
I've also been asked to furnish the recipe, so here it is, slightly modified with my notes.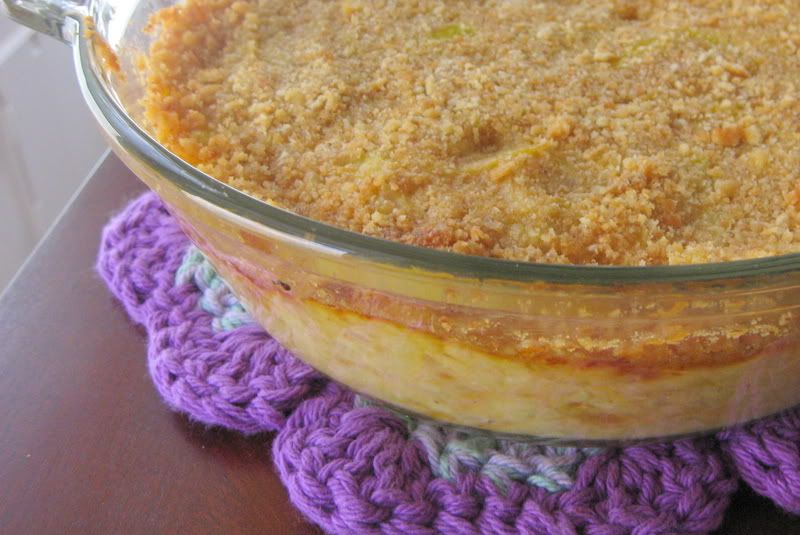 Paula Deen's Squash Casserole
Serves 6
6 cups raw diced yellow squash (I usually use 4-5 squash. This is flexible.)
Vegetable oil
1 large onion, chopped
4 tablespoons (1/2 stick) butter
1/2 cup sour cream
1 teaspoon House Seasoning, recipe follows
1 cup grated cheddar cheese
1 cup crushed Ritz crackers
Preheat oven to 350 degrees F.

Saute the squash in a little vegetable oil over medium-low heat until it has completely broken down, about 15 to 20 minutes. Line a colander with a clean tea towel. Place the cooked squash in the lined colander. Squeeze excess moisture from the squash. (I just cover with a clean dish towel and mash with a spoon until most of the juices drain). Set aside.

In a medium sized skillet, saute the onion in butter for 5 minutes. Remove from pan and mix all ingredients together except cracker crumbs. Pour mixture into a buttered casserole dish and top with cracker crumbs. Bake for 25 to 30 minutes.

————————————————————-

Paula Deen's House Seasoning:

1 cup salt
1/4 cup black pepper
1/4 cup garlic powder

Mix ingredients together and store in an airtight container for up to 6 months.
Yield: 1 1/2 cups