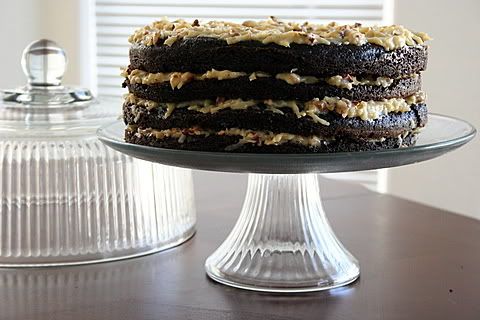 I have a backlog of posts that I still need to get up. But some things just can't wait. This cake is one of those things.
I have found my holy grail of German Chocolate Cake recipes. I baked this last night, and man oh man, the combination of the cake and icing is killer. You'll notice I went with four layers instead of my normal two. I did this for two reasons: 1) to experiment with cutting cake layers (easier than I thought, with floss!) 2) and to have more of the NUMMY NUMMY icing per bite!
Licking the icing bowl was my very first cheat from clean eating in two weeks. And it was so very worth it. I did go a bit nuts eating the remnants of the first cake I baked. You could call that emotional eating. I got a bit peeved that I had to bake the cake TWICE, because I forgot the parchment circles and it stuck to the bottom of the pans. The parchment circles were laying right on the counter where I left them, too. So into the trash it went. Of course, it tasted AMAZING, but my perfectionism wouldn't let me serve crumbled cake to anyone no matter how good it tasted. It's not the first time I've screwed up in the kitchen, and I'm sure it won't be the last.
I used the chocolate cake recipe I always use – Hershey's Black Magic Cake. And I tried the coconut-pecan filling from Cook's Illustrated recipe for German Chocolate Cake. The recipe I found on the web (with rave reviews) didn't have the same ingredients as the recipe in my Best Recipe cookbook, so I went with the web version.
This will be my standard recipe for German Chocolate cakes. Unless I decide to get experimental in the future, which could very well be.
Here it is:

German Chocolate Cake with Coconut-Pecan Filling
Adapted from Hershey's Black Magic Cake recipe and Cook's Illustrated recipe from Cooking at Home with America's Test Kitchen 2006.
INGREDIENTS
For the filling
4 large egg yolks
One 12-ounce can evaporated milk
1 cup granulated sugar
1/4 cup packed light brown sugar
6 tablespoons unsalted butter, cut into 6 pieces
1/8 teaspoon salt
2 teaspoons vanilla extract
2 1/3. cups sweetened shredded coconut
1 1/2 cups finely chopped pecans, toasted
For the cake
2 cups sugar
1-3/4 cups all-purpose flour
3/4 cup HERSHEY'S Cocoa
2 teaspoons baking soda
1 teaspoon baking powder
1 teaspoon salt
2 eggs
1 cup buttermilk
1 cup strong black coffee OR 2 teaspoons powdered instant coffee plus 1 cup boiling water
1/2 cup vegetable oil
1 teaspoon vanilla extract
METHOD
Make the filling
1. Whisk the yolks in a medium saucepan; gradually whisk in the evaporated milk.
Add the sugars, butter, and salt and cook over medium-high heat, whisking
constantly, until the mixture is boiling, frothy, and slightly thickened, about 6
minutes.
2. Transfer the mixture to a bowl, whisk in the vanilla, then stir in the coconut. Cool
until just warm, cover with plastic wrap, and refrigerate until cool or cold, at least 2
hours or up to 3 days. (The pecans are stirred in just before cake assembly.)

Make the cake
1. Adjust an oven rack to the lower-middle position; heat the oven to 350°F (175°C). Spray two 9-inch-round cake pans with nonstick cooking spray; line the bottoms with parchment or waxed paper rounds. Spray the paper rounds, dust the pans with flour, and knock out the excess.
2. Stir together sugar, flour, cocoa, baking soda, baking powder and salt in large bowl. Add eggs, buttermilk, coffee, oil and vanilla; beat on medium speed of mixer 2 minutes (batter will be thin). Pour batter evenly into prepared pans.
3. Bake 30 to 35 minutes for, or until a toothpick inserted in center comes out clean. Cool 10 minutes, then invert the cakes onto a wire rack; peel off and discard the paper rounds. Cool the cakes to room temperature before filling, about 1 hour. (The cooled cakes can be wrapped in plastic wrap and stored at room temperature for up to one day.)
To assemble
1. Stir the toasted pecans into the chilled filling. Set one cake on a serving platter or cardboard round cut slightly smaller than the cake, and the second cake on a work surface (or leave it on the wire rack). With a serrated knife held so that the blade is parallel with the work surface, use a sawing motion to cut each cake into two even layers. Starting with the first cake, carefully lift off the top layer and set aside.
2. Using an icing spatula, distribute about 1 cup filling evenly on the cake, spreading the filling to the very edge of the cake and leveling the surface. Carefully place the upper cake layer on top of the filling; repeat using the remaining filling and cake layers. If necessary, dust the crumbs off the platter; serve.
Heather's Notes: The Black Magic Cake is pretty moist and crumbly, so I didn't want to tempt fate by trying to slice the cakes in two with a serrated knife. Plus, I don't have a turntable for icing cakes yet. Instead, I used this nifty trick. It worked like a charm! First, I chilled the cakes in the fridge overnight so they would be easier to cut. Then I used the toothpicks and floss to cut each of the cakes in two. I then slid a 1/2-sized cookie sheet between the two layers and lifted the top layer off, iced the bottom layer, and reassembled. I didn't have unflavored floss, but I doubt there will be much of a minty flavor left behind in the cake, hehe.
Also, someday I want to try this inside out German Chocolate Cake recipe.