This past week I've made an effort to eat clean, which for me means: No soda. No coffee. No greasy fried foods. Nothing processed. No bread, pasta, wraps, etc. No candy or junk food. Just clean, healthy eating, consisting mostly of chicken, fish, and vegetables. 5-6 small meals a day. High in protein, low in starchy carbs. Minimal dairy.
In other words, the foods that I've found through experimentation to be most compatible with my finicky gut
When I get stressed, or lazy, I tend to resort to foods incompatible with my IBS. I tend to grab quick foods that fill some random craving at the moment, or perhaps is what everyone else is eating, which ultimately wreak havoc on my system. But once I get in a rhythm of clean eating, I tend to feel so great that I couldn't care less if Joe Bob sitting next to me is eating junk food. The hard part for me is finding that rhythm and maintaining it. Also, it takes setting aside the time to prep all my meals a day ahead.
This is fairly representative of what I've been eating lately: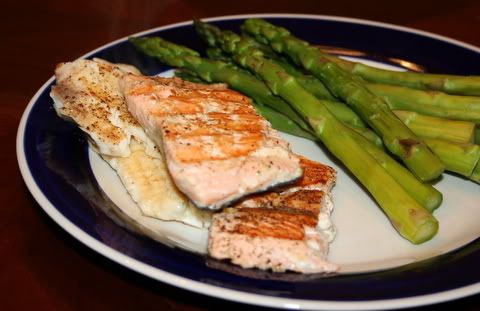 4 oz. Tilapia, 4 oz. salmon and 12 asparagus spears. And while it looks complicated, this is made super easy thanks to my George Foreman grill and steam basket. I just thaw the (individually wrapped) salmon and tilapia under running water, coat them with olive oil and freshly ground pepper (you could put more seasoning, I'm rather bland), and toss it on the GF for a few minutes. Meanwhile, I throw the little metal steam basket I picked up somewhere for $5 inside any old pot, barely fill it with water, and toss in whatever veggie I'm eating (asparagus, broccoli, etc). Turn the heat up high, wait for the veggies to turn a brilliant green, and voila. Within 10-20 minutes I have myself a meal.
Mostly, I've just been drinking water and iced green tea. My work makes it easy for me, since they provide free tea bags.
I've actually been enjoying my time in the kitchen. I normally don't take the time to cook elaborate meals for just myself. But now with my schedule as hectic as ever, I find it to be very stress-relieving. This morning I made a fabulous egg-white omelet stuffed with ground turkey, onions, tomatoes and FETA. Yum.