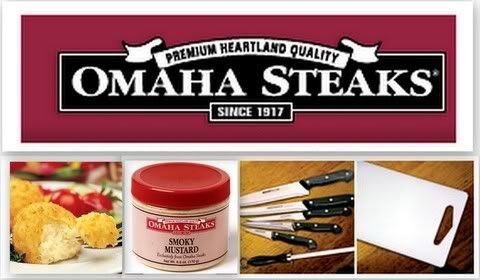 I found this deal over at i-Mommies. Basically, you order anything that is $11.01 or greater from Omaha Steaks and receive a free 6-piece cutlery set and cutting board. I had a little trouble getting it to work with just $11.98 in my shopping cart, but was able to get the free cutlery to show up with $14.48. With a $25 coupon code, you'll pay $3-4 total to have all items shipped to your door! Here's how it works:
1.) Click HERE to register with GEICO Privileges (you don't have to be a GEICO customer to use their privileges!)
2.) Within an hour or two, you'll receive an email from GEICO Privileges (the Subject line reads: ENJOY Your Omaha Steaks e-Certificate from GEICO Privileges!). Within that email is a link which will direct you to the GEICO site displaying your $25 coupon code (these are unique codes and may only be used once).
3.) Make note of the coupon code, and then click HERE to access Omaha Steaks (not all Omaha links have the same prices and offer the same freebies…I already tried going through Ebates, but it didn't work!)
4.) Select your items and add them to your cart. Some people have been getting carrot cake, steak burgers, seasonings, stuffed potatoes, etc. I went ahead and got the 10 Au Gratin potatoes since someone said they were really good (and I know an Auggie lover)…and a jar of smoky mustard, because I LOVE mustard. My total came to $28.47 before the coupon code.
5.) Select Checkout (the free 6-piece cutlery set and cutting board will be displayed on the Checkout page).
6.) Select Checkout again (via either Paypal or standard checkout)
7.) Enter your billing information and select Continue Checkout
8.) Enter shipping information (or select "Ship to Myself"), then select Continue Checkout
9.) From the Payment page, your initial balance will be displayed. Enter your $25 gift code from Geico Privileges (PIN is not required) and click Apply. Once the code has been applied, your balance will change to $3-4.
10.) Enter your payment information and scroll to the bottom of the page, and click Place Order. (I ordered today and the approximate arrival date is scheduled for "on or before October 29, 2008″.)
NOW, that's not all!! When I ordered, I was given the option of sending an email code of 12 free hamburgers to anyone I wanted. Someone has reported using this email code with the Geico $25 code to get 12 free hamburgers, plus the cutlery set and whatever else they ordered. For example, someone sent the free hamburgers code to her husband, and then ordered the following:
10 potatoes au gratin
1 steak seasoning
12 free hamburgers
For 1.98 shipped!!!!!
If I thought you were remotely interested in this offer, I went ahead and emailed you the free hamburger code. If anyone didn't get the code and wants to take advantage of the offer PLUS get 12 free hamburgers, just give me a holler and I'll send a free hamburger code your way.
Happy Ordering!