Yesterday I had a rather splendid day of shopping at Walgreens. I was exhausted after a very long week of school & work, but I wasn't about to pass up free razor blades. In fact, my brain kept screaming OMG HEATHER IT DOESN'T GET BETTER THAN FREE RAZOR BLADES. So, in an effort to quiet the voices in my head, I dragged myself out of the house. Boy am I glad I did!
I scored 18 boxes of 4 Schick Quattro razor blade refills. That's a total of 72 razor blades. And since each box of 4 retails for $10.49 each, that's $188.82 worth of razor blades. Also, I was able to get a raincheck for more — with no limit.
My out of pocket price for all these razor blades? Zip. Zero. Zilch. That's right, I got them all free. I've broken down two of my orders below – I also did one more that was similar to the first two. I wasn't able to get any of the cleaners that I wanted, because all three stores I went to were completely wiped out. I really wanted the Scrubbing Bubbles wipes too! They were completely out of the free Pro-Health rinse and most of the FAR items as well. Oh well, I still did pretty well!
My first trip:
3 Robitussin Cough Syrups @ $3.99ea
7 Schick Quattro Razor Refills @ $4.99ea
2 Dark Chocolate M&Ms @ $0.40ea (I needed two fillers)
- 3 $1.00 Robitussin IP (I was too late printing these out, or else I could have gotten $3.00 coupons!)
- 7 $4.00 Schick MQ
- $10/40 WAG Q
- $5 Walgreens RR
Total: $4.76 on a Walgreens gift card
Earned $10 RR (Robitussin)
Total OOP: $4.76 + $5 RR spent – $10 RR earned = $0.24 PROFIT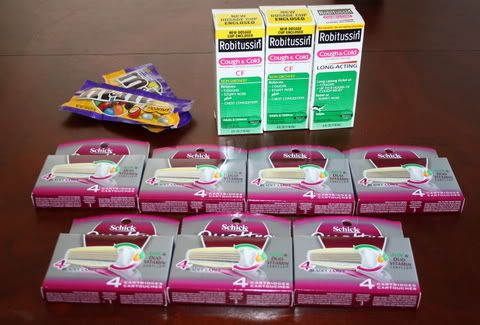 My second trip:
1 Ant & Roach Killer @ $3.39 (ants have taken over our kitchen)
1 Loreal anti-wrinkle cream @ $12.36 (I think I may have purchased the wrong one for the ESR – may need to take it back and swap it)
2 WAG Aluminum Foil @ 2/1.00 (7 day WAG Q)
6 Schick Quattro Razor Refills @ $4.99ea
1 Kit Kat @ $0.40 (I needed a filler. These orders make me look like a candy addict. Haha)
- 1 $3.00 Loreal MQ
- 6 $4.00 Schick MQ
- $10/40 WAG Q
- $10 Walgreens RR
Total: $2.96 on a Walgreens gift card
Earned $12.36 + 1.24 ESR (Loreal)
Total OOP: $2.96 + $10 RR spent – $13.60ESR earned = $0.64 PROFIT