I now have a reason to visit Prescott! (hehe, other than tovisit my sister, that is…)
Yesterday, Mike and I went up to Watson Lake in Prescott to go kayaking. We decided to rent a tandem kayak. It was cheaper to rent ($20 for the first hour, and $15 every hour thereafter), plus it allowed for more togetherness. Awww. Um, yeah, it took us a full hour of going in circles before we were actually "together" in the true sense of the word. But once we got in sync (and I switched to the backseat), it was a lot of fun. Apparently I'm too erratic to be the lead rower. Who'da thunk it?
I tell you what though, I do NOT have luck with my camera around water. This time I dropped my camera bag in the lake, which is better than the camera itself. But I still sulked a bit. Especially since it had sunk out of sight before I realized I dropped it. After that, I didn't want to take my camera in and out of the dry bag for fear of damaging it. Now that I see the pictures, I wish I had taken more photos while we were on the water. It really was a beautiful day.
This was my favorite shot. Don't you love how the clouds seem to be popping out of the sky? The rock formations bordering the lake are the Granite Dells. I'm now looking forward to going back so I can explore and take more pictures of the Dells.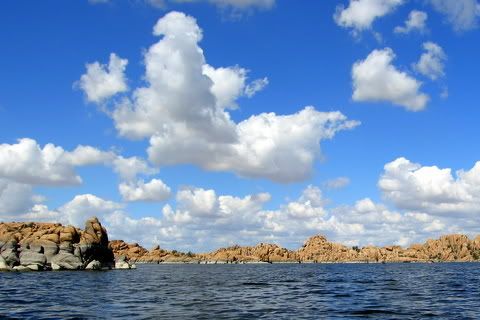 The rest of the pictures from our kayaking trip are in the album:
9.1.08 Watson…