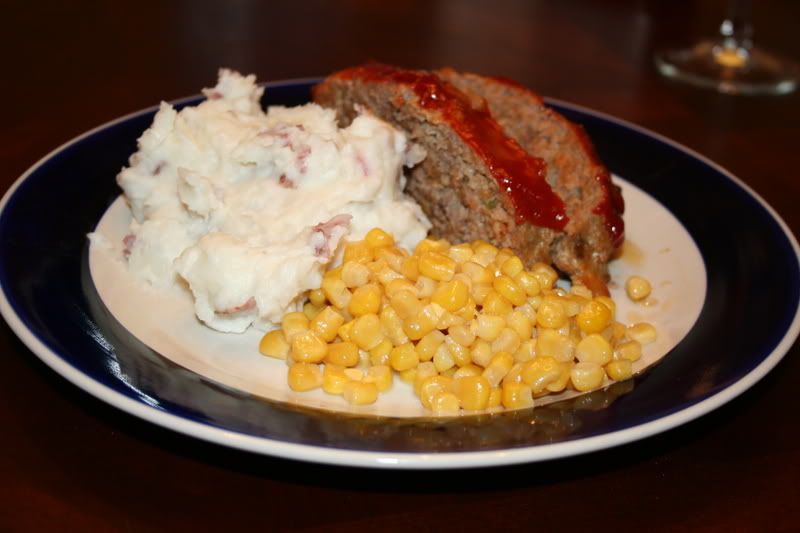 This was of course at Mike's request. I think his ultimate weekly meal plan would look something like this: Meatloaf, Spaghetti, Shepherd's Pie, Tuna Helper, Fish Sticks, and leftovers the other two nights. Of course every single meal would include potatoes.
One of Mike's favorite restaurants is Claim Jumpers, and he ALWAYS gets their meatloaf when he goes there. In my mind, meatloaf is not worth going to an expensive sit-down restaurant. In my mind, it's kind of a peasant food. Unless it's being made by my grandma, in which case, it's a comfort dish made with love. But for a bachelor who includes Campbell's tomato soup in his spaghetti sauce, then I'd imagine Claim Jumper's meatloaf is pretty gourmet.
So when he sent me the link for this copycat restaurant recipe and said "We should make this!" (Translation: I should make it, and he should eat it), I wasn't really surprised. So we made a pact. He would go and shop for the ingredients and bring them to my place, and I promised to make his favorite meatloaf. Actually, he participated more in the process of making this dish than usual. He pulsed the veggies in the food processor (I seriously think it was the first time he's ever seen one), and whisked the eggs and milk. He even measured an ingredient or two.
Mike went and got the camera during the "forming of the meat log." It turns out, if you put a camera in his hand while you're cooking, you get little more than gratuitous boob shots. Sometimes the food enters the picture, sometimes it doesn't! I've done everyone a service and cropped this one: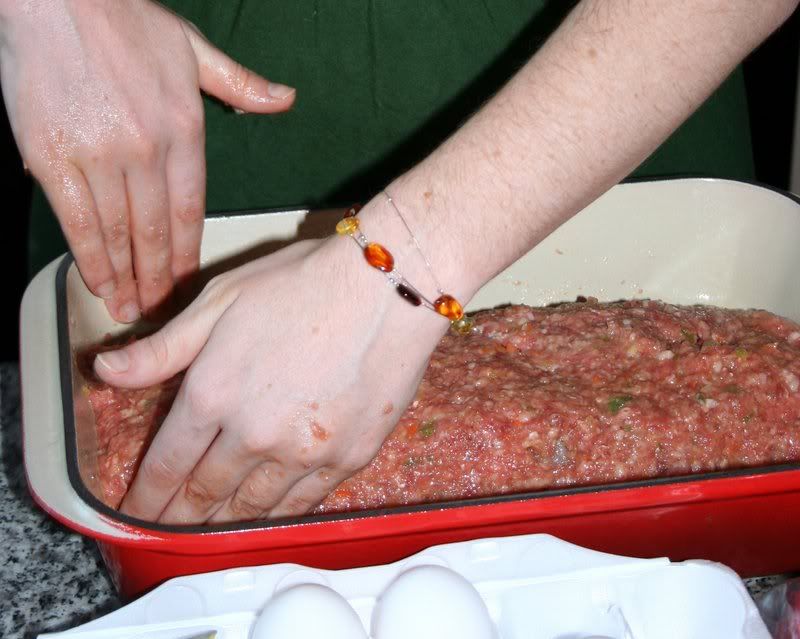 Doesn't raw meat look delicious? Yeah, no, I agree. It's kind of gross. And this recipe makes an unusually soppy and wet meat mixture, which makes the "mix with hands" part of the recipe very unappealing. Notice the pretty bracelet? It's Norwegian amber, thanks to Mike. It also barely fits on my Neanderthal-like dainty wrist. Us Stanfields have thick healthy strong bones.
And here's the happy camper with his finished product. (Note the COMPLETE SEPARATION of all items on his plate. Meat must not touch potatoes, and heaven forbid either comes in contact with icky vegetables!!)