Beck has been spoiled lately with all the free food he's been receiving. (More like Mike has been spoiled — Beck would be receiving food regardless!)
As a Bzz member, I was sent a free 3 lb bag of Hill's Science Diet Nature's Best cat food. I must have screwed up when filling out the questionnaires, because the first bag I received was for kittens. I had heard how fattening kitten food is, and since Beck doesn't need any extra fat, I went and exchanged the bag at Petco for adult cat food. There were two flavors in both kitten and adult: Chicken & Brown Rice and Ocean & Brown Rice. The 3-lb bag of adult cat food retails for $13.99 and the kitten food retails for $14.49.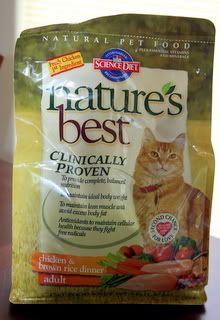 Coupons to Share
Wow, that is some expensive cat food! Nearly triple the price of other brands. The good news is that I have been given several of the following coupons to share:
$5.00 off 3-lb or larger bag of Nature's Best Canine or Feline pet food (exp 10/31/08)
So, if you want any of them, let me know how many and I'll send them your way!

All Natural Ingredients

Hill's Science Diet contains no artificial flavors or colors and no dreaded fillers. We're talking high quality natural ingredients like chicken and lamb, real fruits, veggies, and wholesome grains.
Ingredients Comparison: Purina vs. Science Diet
Now, I happen to have a 3.5-lb bag of Purina Cat Chow (purchased free after $4 coupon), so let's compare the ingredients of the Purina Cat Chow (PCC) and the Hills Science Diet Nature's Best (HSDNB). I'm curious to see if the old maxim "You get what you pay for" rings true.
A big difference right away is in the "Guaranteed Analysis." The Purina Cat chow has a minimum crude fat of 9.5%, while the Science Diet has a minimum crude fat of 17.0%. That's a pretty big difference in fat. Mike actually complained that the last time Beck was on Science Diet, he got fatter! Interesting. The rest of the nutrients are relatively similar. PCC does have more fiber than HSCNB (6.0% vs 2.0%), which is probably due to more fillers.
Now, the ingredient list for HSCNB does look healthy. THE VERY FIRST INGREDIENT IS CHICKEN!! There are many other natural ingredients like whole grain oats, brown rice, dried egg product, cranberries, apples, carrots, peas, etc. According to an article I read, cats don't need carbohydrates — so wheat, rice and oats are all unnecessary fillers. But at least they appear lower on the ingredient list than the chicken — and they are at least higher quality fillers.
Mmmm. Give me more corn meal please!!
The very first ingredient in PCC is corn meal. How sad is it that? The first ingredient is a FILLER. Gross. We wouldn't feed a diet of corn meal and other fillers to our children. The rest of the ingredients are similarly dreary. Poultry by-product meal, corn gluten meal, soy flour, powdered cellulose, salmon meal, etc. Mostly fillers and unidentifiable meat sources. According to this article, you should try to avoid descriptions containing "by-product," "digest," or "meal." Of course, there's also added color (Red 40, Yellow 5, Blue 2).
My Verdict:
HSCNB appears to have healthier ingredients and definitely seems worth the higher cost. However, due to the higher fat percentage, you may want to slightly reduce the amount you feed to your furry friend.