Happy Saturday everyone! kc over at
Desert Deals Diva
was so kind to give me a blog award. Her blog is actually one of many on my feed reader that I read every single day (and usually multiple times a day). Thanks kc!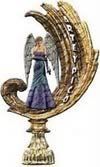 Let's see here. I've seen this award make its rounds on just about every site that I visit regularly, and I'd rather not double-award, but I decided to just go with a few of my favorite picks
Hmmm. Is it a coincidence that they're all written by females??
My nominations for favorite blogs are:
Holly at Sunshine in my Soul –
Of all the blogs on my feed reader (and there are MANY), I always look forward to Holly's posts the most. I came across her blog through a link on Pinching Your Pennies, and I'm so very glad I did. Her pictures are absolutely amazing and she has the most ADORABLE four kids. I even signed up to attend her photo workshop in October!! I'm very excited to meet my favorite blogger in real life! Plus she has a gorgeous house and great crafting ideas! (I especially like her fall pumpkins. I only wish that I could sew.) She is incredibly talented and inspires me in all areas of my life.
Precious at Frugal makes Cents –
I know Precious has been nominated already, but I REALLY AM DIGGING her current "The Road to Early Retirement" series. I don't have a television (by choice), so that leaves a lot of time for online reading. I'd say 80% of my online reading is spent on personal finance, of which a huge portion is about early retirement. For a topic that is covered so frequently and usually so dryly, I give huge props to Precious for keeping me intrigued (and eagerly awaiting the next installment!). As I get ready to embark on this road myself, I'm especially interested to see how someone else has done it so well without scrimping on her family's needs. Plus she has a great writing style – it takes me very little time to gobble up her posts.
Jamie at ¢ent$tible Mommy –
Jamie's blog gets the vote for being a newer addition to my feed reader. Her posts are quick and easy to digest, yet packed full of info. Lately she's been having GREAT giveaways. Right now you can sign up to win a custom wallet or two bottles of Country Bob's All Purpose Sauce.