I haven't had vision insurance in, oh, five years. So I was ecstatic to find out that I'd be getting full benefits as an intern this summer. The first thing I did was make an appointment to get my teeth cleaned (no new cavities! YAY!), and my annual eye exam.
The glasses exam was fully covered, but the contacts exam was not ($69), as usual. And since I haven't had new glasses in roughly seven years (I still LOVE THOSE FRAMES! I hope they never die!), I decided to splurge on a new pair of glasses. I say splurge, because after all the extras (polycarbonate lenses, special anti-reflective coating, and frame that actually looked decent on my very oddly shaped face), I spent a considerable amount after insurance. Of course I did have to go to the swanky Ahwatukee extortionist optometrist that only carries brands like Coach, Versace, and BCBG
And now that I have a lovely astigmatism in my left eye, I had to pay a pretty penny on toric contact lenses as well. Thank goodness my check from G.W. arrived in the mail a couple of weeks ago.
In all honesty, I really do like Dr. Jones (he's young and cute! Need I say more? haha) and the rest of the staff at Arizona's Vision. It's conveniently located within walking distance of my house. The staff is super friendly, and they have all the latest and greatest high tech gear.

With a fashion piece this expensive sitting on your face, who needs jewelery?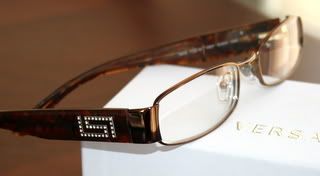 Whaddya think? Even though I love my black frames, I wanted something different, and these coppery brown frames sort of complement my complexion. I was hesitant about the bling, but it's growing on me. I've already been told I look "quite scholarly" in them, whatever that means. Mike likes the shape, but makes fun of my "Nazi symbols" on the side. Hrumph.