Here's a sort of video log of the vegan lasagna-making process. There were several "oooh, I wonder how this is going to work" moments, so I thought I'd capture them on photo.
Since there were no vegan cheese shreds at the store, I had to buy it by the block. I was very curious whether this grayish block of putrid-smelling faux cheese would even shred or just crumble into weird gooey gelatinous slimeballs. However, with the help of my trusty food processor (who actually shreds cheese by hand anymore?!?), I had long, beautiful vegan cheese shreds. Smelly cheese shreds. (The smell does go away after cooking. Or it was overpowered by all the other ingredients. I certainly had no desire to inhale a pile of this stuff plain though!)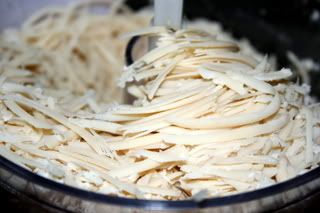 The ricotta substitute (aka tofu mixture) was another source of intrigue. After processing it actually looked like ricotta, both visually and texturally. And it tasted pretty darn good too! It tasted like an oniony, garlicky spread that would be great on top of crackers, or used inside tea sandwiches or something.
A shoutout to my sister for her help in the preparation of the tofu mixture — SHE ACTUALLY ROLLED A LEMON to get it nice and soft for juicing. She also went "eew" a couple of times. Couldn't have done it without you sis
The finished product. Note the complete lack of meltage.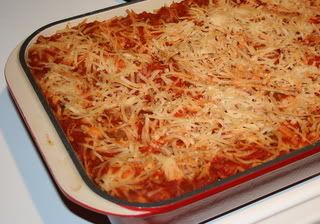 Jacob, the newest spokesmodel for GalaxyFoods Vegan Cheese says "I'm trying lasagna for the first time in my 28-year-old life and YOU CAN TOO thanks to GalaxyFoods!!"
And here's my roommate, Mr. Bleys T. Goodson. "Nom nom nom. I love my roommate. She makes yummy foodz. But I refuse to open my eyes for fear she'll capture my soul."