This is why I miss having an Albertsons 1/4 mile down the street from me.
Using a combination of coupons and a 4th of July store promotion, I got the following (a $69.47 value) for only 78 cents!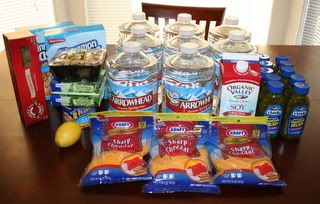 Pictured: 10 bottles of Vlasic squeezable relish, 8 3-liter bottles of Arrowhead Spring Water, 3 bags of Kraft Sharp Cheddar cheese, one 1/2 gallon of Organic Valley soy milk (a $3.99 value alone), a jar of Planter's cashews, 2 packages of spinach, one package of baby bella mushrooms, 2 boxes of Malt O'Meal Cinnamon Toasters, one package of lasagna noodles, and a lemon.
Aside from the relish, that's mostly all stuff that I needed. I'm patting myself on the back right now.