Woohoo, I just put my order in for some new running shoes at Eastbay. They currently have a coupon code for 20% off all orders with coupon code: LKS18FM5. Plus, if you shop through Jellyfish (another online shopping portal website), you get an extra 15% cash back on your entire order at Eastbay! AND, to top it off, there's a $5 product review rebate over at Pricegrabber. You just need to write a review and send in the UPC and form (limited to first 15 reviewers I think).
So, all told I will be getting an $89.99 pair of shoes for:
$89.99 + $6.99 S&H – $18 (20% discount) – $11.85 (15% Jellyfish discount) – $5 Pricegrabber rebate = $62.13
The cheapest price on eBay is $84.99 not including S&H.
Earlier I was sad because they had the old model (the ones I currently have) marked down to $49.99 at Sports Authority, but they NEVER have 10.5 in stock. I don't even know if they carry that size in women's shoes. So I came home, did my internet search, and found the newer, prettier model for only $12 more! Go me!
Check out my new Saucony Progrid Trigon 5 Rides (man that's a mouthful!). And yes, this is my third pair of this style..I've owned the Trigon 3, 4, and now 5! Love 'em! And now they are actually in a pretty cool color too!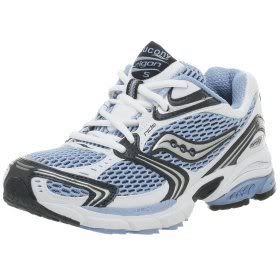 P.S. I'm not the only person that gets super excited at new shoes, am I?!?! It's like Christmas every time I get a new pair!