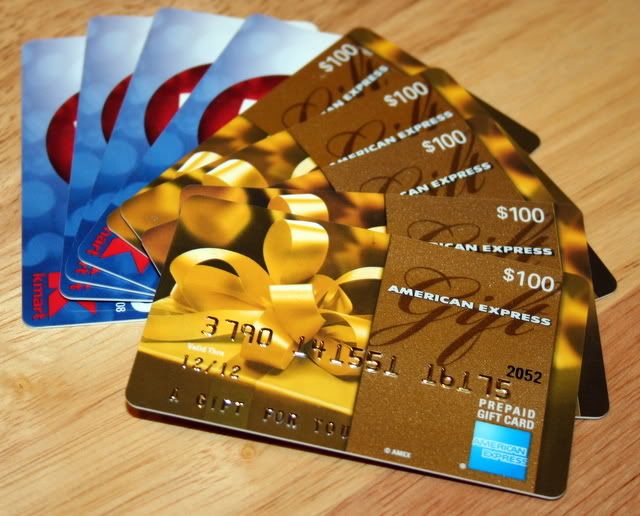 Don't Leave Home Without It: (5) American Express Gift Cards and (4) $10 Rewards Cards from the Kmart Gift Card Promotion
This was my most successful deal of 2007. (Yes, I'm still catching up on old posts). That is $540 of cold hard cash, in the form of American Express Gift Cards and Kmart $10gift cards.
Those who don't want to be bored with the details don't have to read any further — but basically, between an amazing Walgreens promotion and a loophole in a Kmart gift card promotion, I made enough money to amply pay for Christmas AND pay back most of the debt that my deadbeat of a roommate left me with.
The Walgreens promotion went something like this: for the entire month of December, if you bought 3 Nice n' Easy hair dyes (regularly priced $6.99), you would receive a catalina for $10 OYNO (off your next order). Well, I accumulated hundreds of coupons, between Sunday newspaper inserts (thanks Mom!) and $5 peelies off the back of hair dye boxes in various WalMarts across the state (thanks Brooks!). Each Walgreens had several hair dyes marked down to $3-$4. I used the coupons to pay roughly $1 out of pocket, then I earned a $10 catalina on every transaction. Since the promotion went for an ENTIRE month, and there is enough hair dye to stock the entire planet on every Walgreens on every corner, I was able to make hundreds of dollars off this promotion alone. I don't know exactly how much I made, but I spent probably around $50-70 in Walgreens gift cards that I already had earned from previous promotions, and earned anywhere from $500-600 dollars I'm guessing. I spent a lot of it on gift cards for Christmas gifts (which is why I was able to be so generous), and I used $225 of it to buy American Express gift cards. I still have a bazillion boxes of hair dye in my garage (so far I've made ~$80 selling a small fraction of it on eBay).
Here is the hair dye I have LEFT still. Many of the boxes are stacked 6 deep at least.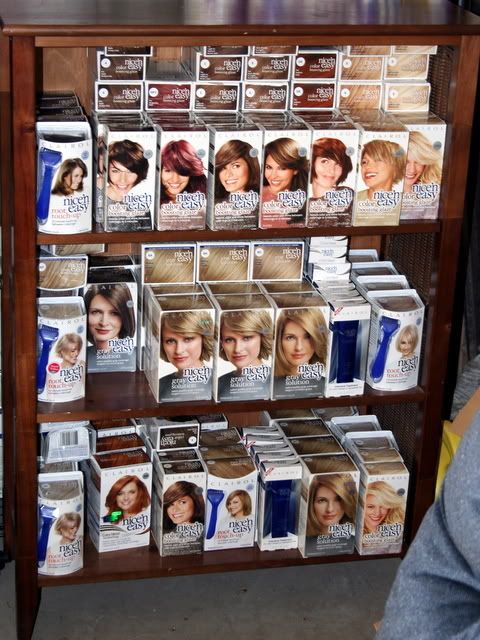 My hair dye haul after a month long Proctor & Gamble promotion at Walgreens.

I then took the American Express gift cards and used them for the gift card promotion at Kmart. This was a slightly more shady deal, and because it was pretty much stealing money from Kmart (in a totally legal manner), I felt a little more guilty about doing it. Basically, for a few days around Christmas (here in AZ it was the 23-24th of December), Kmart has a promotion where you get a $10 Kmart gift card for every $50 in Kmart Gift Cards that you buy. So, for example, I took my American Express gift cards that I earned through the Walgreens promotion and bought $250 in Kmart gift cards. That earned me $50 in free gift cards right off the bat. The idea is that you find a nice, bored customer service rep who will just let you buy Kmart gift cards with Kmart gift cards, and just keep accumulating the $10 reward gift cards until you're sitting on a nice fat stack of free Kmart money. There are people on SlickDeals who walked away with over $1100 in basically free money. I wasn't near as lucky — in fact, I was lucky just to make as much as I did. As you can see, I ended up with $540 — so that's a profit of nearly $300 for one day's work. I overstayed my welcome at one Kmart, and moved on to two or three others. They all refused to let me buy gift cards straight out with gift cards, so I had to buy American Express gift cards with my Kmart gift cards in between each transaction, which wouldn't be a big deal except a) AE gift cards cost $5.95 to activate and b) you have to wait an hour after purchasing them before they are activated.
There are NO rules anywhere stating that you can't buy Kmart gift cards with Kmart gift cards, but obviously, the store manager can make up whatever rules they want to. If the stores caught on that I was using an American Express gift card (instead of credit card), they wouldn't let me buy the gift cards either. So I wasted a lot of time on trial and error, but in the end, I'd say I did decent enough for my first attempt.   I found the best way to not draw attention to yourself is to buy two gift cards at a time, using $100 AE gift cards. That way you can just ring it through the machine like a credit card, they don't even look at your method of payment (otherwise, if you try to pay for $500 in gift cards, they have to ring up 5 separate gift cards…which immediately draws attention to yourself — I mean, who uses 5 different credit cards to pay for an order??) But it takes alot of time to buy two gift cards at a time, making only $20 profit each time, and they start to wonder why you're going through the line so many times.
Obviously, there are less shadier (and less time consuming) ways to take advantage of this deal. If you didn't mind paying out of pocket and you were looking to buy a big ticket item already, then this promotion would be a real money saver. You go up to the Customer Service desk, buy $500 in gift cards with cash (or credit if they let you), and you immediately make $100 profit in Kmart gift cards. Then you can take that $600 and buy yourself whatever you were planning on buying (new TV, game console, whatever). Kmart also sells a ton of gift cards, including American Express and Southwest gift cards, so you could just turn it back into another form of useable cash if you wanted. You'd be in and out, in oh, 30 minutes, and you'd have saved yourself $100.
I wish I could say all that hard work earned me a free trip to Hawaii or something, but of course I had a lame roommate who skipped out of town, owing us over $1100 in rent and utilities, which we will probably NEVER see in our lifetime. I can try to track him down through small claims court, which I may do just out of principle, but either way, I was hurting for cash this holiday season, so this made the dent to my savings a little less noticeable.
Jacob thinks I get off on working the system. My father calls me a hack. I must admit, I do find it a teensy bit enjoyable making $600 from nothing.