I'm a BzzAgent. What does that mean, you ask? Well, BzzAgents volunteer to try out new products and services, and in return we share our opinions with our friends, family, coworkers, etc. We also have to create 'BzzReports,' which is documentation of the Bzz that we've spread. And, the best part is, we are encouraged to share our actual opinions, whether good or bad. As they say in the Bzziness, "all Bzz is good Bzz." Being a BzzAgent is completely free, and you can get more information or join here if you wish. In the future I won't give a whole BzzAgent spiel, since I'll have assumed everyone knows what I'm talking about…but since this is my first official campaign, I figured I'd give a little introduction before I go spouting off about some product I got free in the mail.
Now on to the Bzz.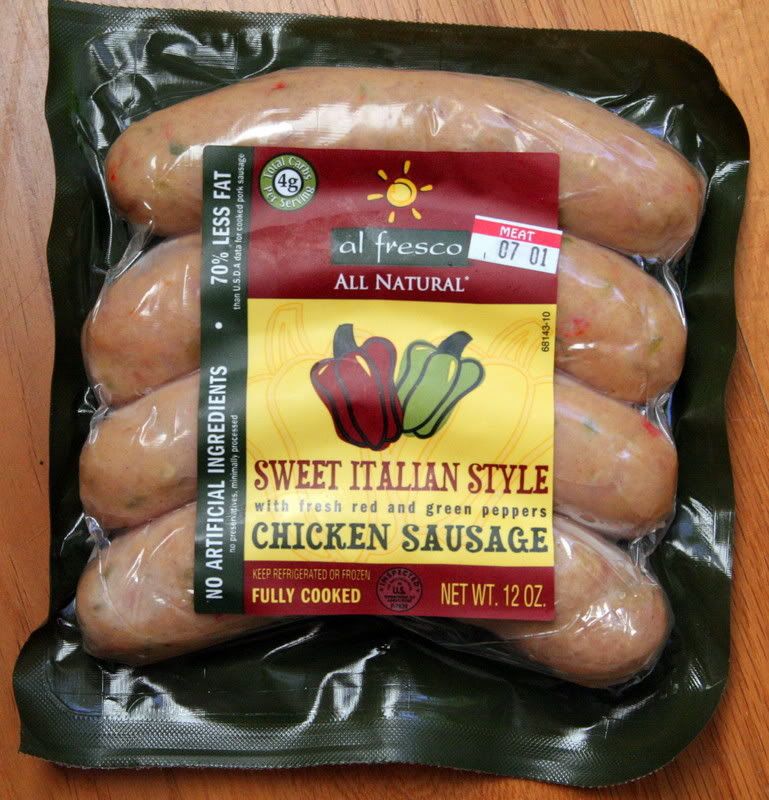 I've been a BzzAgent for a while now, but this is the first campaign that I've been invited to participate in. I was pretty excited when I got accepted, because the product was right up my alley — a healthy, all natural (meaning low fat & no preservatives!) chicken sausage. It took me a while to actually make it to the store to purchase these (with my car broken down I'm totally reliant on the goodwill of my roommates and friends to take me shopping — and this was a little too far to go by bus). In the meantime, I had heard from some fellow Bzzers online that the sweet italian flavor was "gross," but the apple maple flavor had generated a more favorable response. Being the adventurous food-loving soul that I am, I went ahead and purchased both flavors with my two free coupons. There was also one other flavor available at the Super Target I went to — Sundried Tomato & Basil Dinner Sausage. But according to the bzzkit I received in the mail, there's actually 7 different flavors in the fully cooked dinner sausages, 6 flavors of the fresh, "ready for the grill" sausages, and 3 flavors of fully cooked breakfast sausages.
The verdict:
I must admit, that I was expecting these sausages to be a little "off" in flavor. Isn't that how all healthy, all natural food is supposed to taste? Not to mention, the sausages are pretty unappealing in appearance. But I was pleasantly surprised!! My favorite was the Sweet Italian Style, actually. I snuck a bite of the sausage right out of the package (since they're fully cooked, this is okay to do), and even cold they were pretty yummy. I made two dinners out of one package — the first night I sauteed the sausage with some chopped bell pepper and mushrooms, added a jar of veggie primavera Ragu sauce, and tossed the mixture over some whole wheat pasta. Overall, a quick and tasty concoction. I just realized that I got every single ingredient in that dinner for free. Not bad, for a healthy, quick and tasty meal.
The next meal I prepared was even better — I again sauteed some bell pepper and mushrooms with the remaining sausage and this time added the mixture to a bag of Simply Potatoes (diced potatoes with onions). I liked the hash much better than the pasta sauce, because it let all the flavors of the sausage come through without being overpowered by the sugary (sometimes cloyingly sweet in my opinion) Ragu sauce. The sweet italian style sausage has little flecks of green and red bell pepper, which are really tasty. Of course, for those of you who are used to juicy pork sausage, this may be a little bland for your tastes — but I'm used to a fairly bland diet of mostly chicken and fish, so it's nice having a quick, easy to prepare alternative. And I'm a huge fan of no preservatives. Once I get my grill up and going, I could even toss these on the grill for a quick meal. Yumm-o!
I had planned on serving the apple maple breakfast links with some eggs and hashbrowns one morning, but I got hungry and ended up snacking on them throughout the day instead. They were pretty good, and would probably be much better heated up — I just got lazy and popped them in my mouth straight out of the fridge. Definitely sweet, and I tasted more of the maple than apple flavoring. I'm not the biggest fan of maple sausage in general, but if you like something sweet for breakfast, this should definitely do the trick.
You can find out more about the Al Fresco All Natural line at their website. They have a store locater here. They can be found in the refrigerated dinner sausage or all natural meat section of the supermarket, and the suggested retail price is $4.99 for 4 links of dinner sausage or 6 links of breakfast sausage. Also, each package comes with some recipes on the back if you need some creative meal suggestions.
The only downfall that I can see is that the Al Fresco sausage line is currently only available at two Super Target locations in Arizona, in Mesa and Gilbert. I have some $1 coupons to give away, so if you happen to be heading in either of those directions, or if there is a close distributer next to you and you'd like me to mail them to you, let me know!