There have been some dissenting opinions toward Ebay on here lately, and I just thought I would do a little exposè on someone near and dear to me — my mother! I only sell things on Ebay for some extra pocket money. It's a fun hobby, and it helps fund my other hobbies. My mom, on the otherhand, has made Ebay her livelihood, and I must say, she has done a pretty darn good job of it! I'm proud of her, for finding something she loves, and making it a success. Plus she gets to do it out of her home, to boot!
There are plenty of people who lose money when they try to start a business on Ebay, thinking they have some great product to sell, starting an Ebay store (not a good idea unless you have a TON of inventory and plenty of repeat customers), only to find that at the end of the month they owe Ebay more than they made profit. The trick to making money on Ebay is knowing what to sell. Period. You need to have merchandise that is high in demand, attracts lots of bidders, and brings home plenty of profit. My mom sells collectibles and antiques. She has been a collector for as long as I can remember, and she knows her stuff. So she knows what to look for, where to buy it, and she is not afraid of spending a little bit of dough to sell it for a lot more (we're talking a profit of hundreds, sometimes thousands of dollars). Why Ebay and not a brick-and-mortar store? Because she lives in a dinky little town, and she gets worldwide exposure that she wouldn't otherwise get. Sure, she may sell it for a little less on Ebay than what it's worth on the market, but at least she's selling it! At a high turnaround, and high profit, I might add.
Other factors which come into play: Knowing how to sell (my mom uses regular auction-style listings as opposed to a store), whom to sell it to (my mom sells worldwide, and a good deal of her profit comes from international customers), and when to sell (there are prime selling times when you should list your items, depending on your target market). I have also found that a good, not too specific, yet descriptive title goes a long way in promoting your item. I once listed an item twice, changed the title the third time to a more general description, and sold it for twice the original listing price.
My mom only started selling on Ebay last fall, and she has already been promoted to Power Seller status, with nearly 500 positive feedback comments. She is definitely in the perfect market, since people who collect antiques are usually willing to pay crazy shipping fees, and are probably the least likely to scam you (unlike the electronics industry, where scammers abound). She ships worldwide, and hasn't lost anything yet. She prefers Paypal, but accepts money orders and cashier's checks as well. She's only had to file 2-3 non-payments, and those were on small items of relatively little value. PLUS, she ships fine china and other highly fragile items on a daily basis through the USPS, and she has 99.8% feedback! My mom is a FANTASTIC packer (she's the first on my list to help me pack my kitchenwares when I move!!), which is another reason this business works for her. If she wasn't so extremely careful, and didn't know how to pack items, then people would get broken china or glass shards on their doorstep, and leave negative feedback.
My mom calls me up every week, all giddy about some item she's just turned a big profit on. One week it will be a set of china, another week it will be a vintage pair of jeans. I just shake my head, and think, gosh, if only I could find a set of china or a pair of jeans to sell for $500 profit, just ONCE, I would be happy!! And she does it weekly. And that's just on one item! She sells 50 items a week, on average.
Here is her latest and most profitable sale to date.

Native American Navajo Indian Chief's Blanket: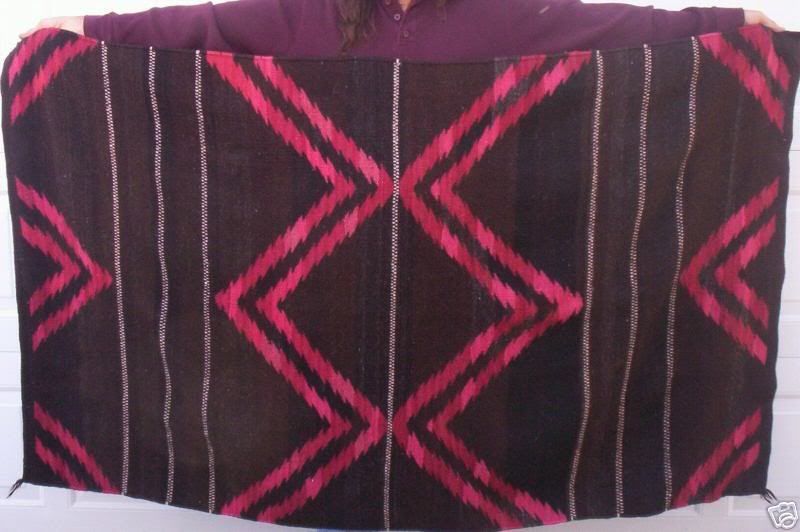 Doesn't look like much, does it? Just a typical Native American blanket/rug? (That's what it looks like to me anyway). Well, it's not just any old Native American blanket (which, by the way, are worth their fair share on the market if they are authentic). It's a "Chief's" blanket, which dates from the period of 1800-1875, and is the most admired and most valuable of all Navajo blanket types. My mom snatched this one up for $125 at an estate sale in Sedona and sold it the next week for a cool $1725. That's a profit of $1600!! I know what the naysayers are saying now: Yeah, but how much of that went towards Paypal/Ebay fees? Sure, she ended up forking over $100 of fees to Ebay and Paypal, but she looks at it as money she didn't have in the first place. And in the end she still made out like a bandit.
So there, you CAN make money on Ebay! My mom is a fine example. You would never know that I had to teach her the basics of how to use a digital camera, and how to send attachments through email not too long ago