My dear sister is in town for spring break, and I got the fun job of picking her up from the airport. After all these years, I think I found the secret to winning Hannah's affection: loading her suitcase up with tons of free food! She raided my donation boxes and took, among other things, umpteen boxes of macaroni & cheese, chex mix, cookies, brownies, boxed potatoes, cereal, and a new toothbrush. I've never seen her happier to be with her big sister
To think, my sister loves me for my free food. Haha. I don't blame her…I would have been thrilled to have my cupboards stocked as a poor college student. Heck, I still get thrilled stocking my cupboards for free as a poor graduate student
Yesterday I took her shopping for a few things on her shopping list. She was quite giddy after purchasing four boxes of the new Nature Valley cereal for only $0.50 a box (a total savings of $16.xx). Her quote of the day: "I can see how you can get addicted to saving money!"
We also went to my new favorite restaurant, Sushi Ken, where Hannah ordered Chicken Donburi (chicken teriyaki rice bowl). Her dish won most beautiful presentation award:
A picture of us bonding at lunch: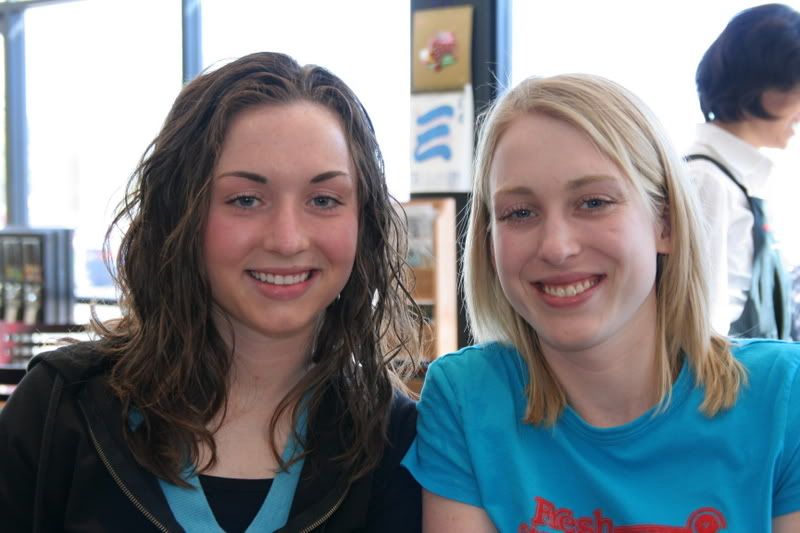 We then continued our sisterly bonding (insert awwww here) over a game of miniature golf. I won't mention who beat who *cough cough, Hannah lost, cough cough* but let's just say it was pretty much no contest
Here we are showing our affection for each other. Just like the good ole days…
Somehow we always manage to coordinate colors. Maybe we are sisters, eh?
Here is one my sexiest poses ever. In case you're wondering, I'm pretending to be a velociraptor. Hannah didn't want to pretend to be a dinosaur for some reason…
And here is a picture of us feigning to love each other
What you don't see is Hannah shaking me off and doing the cooties dance immediately after the picture was taken…


If you want to see the rest of the pictures from our day together , check out my facebook album Sister Fun.