It is actually very cost-effective to pay a couple extra bucks for full price gear at REI. I just took back my old, very worn in hiking boots (I purchased them a year ago around February-ish) without a receipt and received full store credit for the price I paid. The boots had actually fallen apart at the outer seams within 6-8 months, and one had this defective bump inside that was rubbing my toes raw, so I felt justified in taking them back. But even so, how many stores do you know that would allow you to return shoes with hundreds of miles of wear on them without a receipt? I heart REI.
Apparently the particular pair of REI boots I got aren't appropriate for my foot. See, I have these wonderful bunions (thanks grandma!) which cause the outer part of my foot to stick out, and put extra force on those nice little seams there. And the seams weren't double stitched, which is something I know to look for now.
So I tried on a comparable pair of REI brand hiking boots that were double stitched, and they had reinforced rubber toes (something I didn't like about my last pair — they got quite scuffed at the toe without that reinforcement). They were waterproof as well. And they were made by Merrell (the others I had were made by Vasque), so maybe the difference in companies would make them more durable. As for fit — they were pretty comfortable. They felt just like the last pair, pretty normal, nothing outstanding, just like a high-top boot feels. *Shrug* And the difference in price was $10-15 bucks at most. Oh, and they were this olive green color, which I liked (the light tan boots tend to blend into my pale complexion). Not that I'm out on the trail to make a fashion statement…but it was a nice bonus.
And then I overheard one of the salesmen talking to the customers, and I could tell he really knew his stuff. So I asked him his opinion, and he confirmed that the pair I had picked out would be a solid backpacking boot. He also said I might want to try on the Montrails, and some other brand that I can't remember the name now. Both models were considerably more expensive than the pair I had returned. But I thought, what the heck, let's see if they're worth the extra money.
And wow. The first pair was nothing spectacular. But the Montrails! OMG, it was like going from a Camry to a Lexus. It was the luxury model of the hiking boot world. SO comfortable, it was literally like my foot was being enveloped by a cloud. They have this extra padded lining inside, that is just wonderful. For the next ten minutes, I could hardly contain my joy at finding an actual comfortable hiking boot. I guess my huge smile and moans of pleasure gave it away too – the salesman said I must really like them.
I was screwed. Boots are by far the most important piece of hiking equipment, in my opinion. If your feet aren't happy, you aren't happy. And anyone who has had problems with their feet (darn bunions) knows how hard it is to find a comfortable shoe! So I forked over the extra $81 and some change for the luxury boots.
Behold my new luxury hiking boots: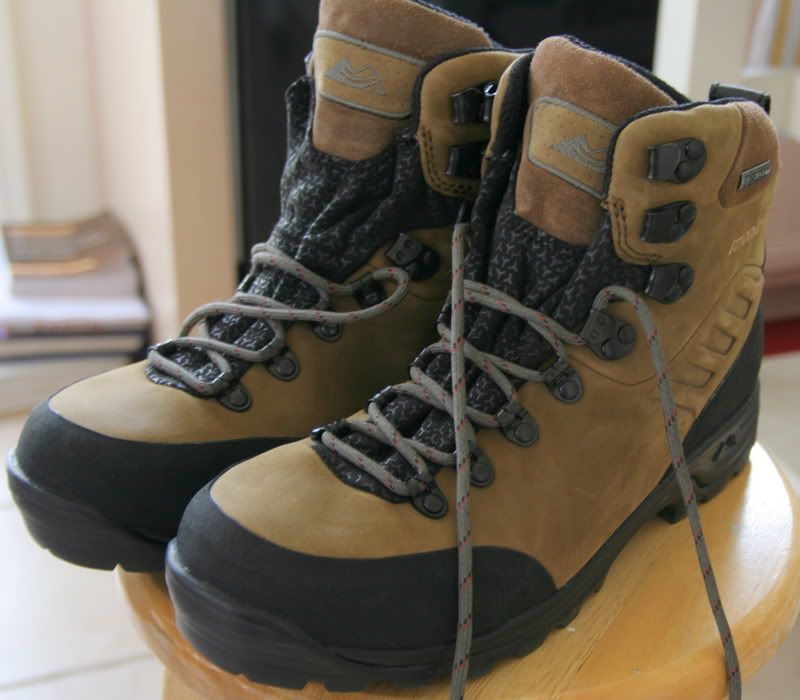 Montrail Blue Ridge GTX Hiking Boots
I'm actually excited to go hiking again…which is nice after the recent winter hiking lull.
So ya, definitely pay the extra money to buy gear from REI. You could save yourself some cash and buy online, but you actually don't save yourself moneyin the long run. If for some reason the item doesn't fit properly (and nine times out of ten for me, it doesn't), you have to pay the shipping fee to return the item. And then when something goes wrong with it or you decide after wearing it a couple times that you really don't like it after all — well, now you're stuck with something that you could have returned had you bought it from REI. Plus you get dividends from REI, which is like cashback on all purchases made within a year. So every February you get a nice little bonus check and you get to treat yourself to a cool new hat or pair of socks