Check out what I scored today from Safeway for less than $2. Yes, you read that right, less than TWO BUCKS!!! This is by far the best grocery deal I have ever seen.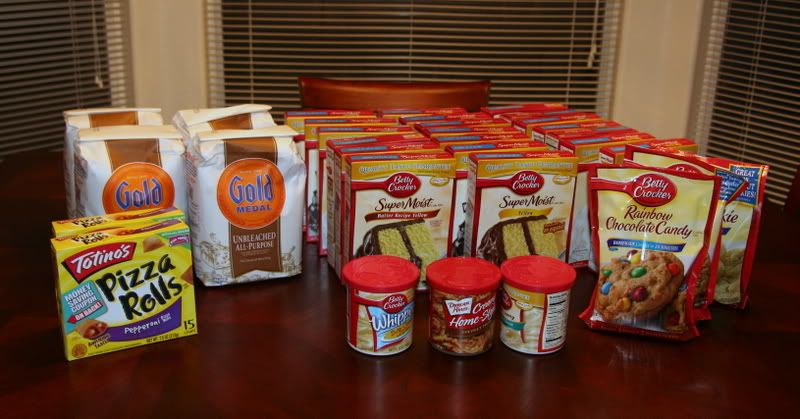 In honor of the upcoming holidays, Safeway is having a baking sale. This thing is HUGE. Like run to your local Safeway and take advantage of it quick huge! Here's the lowdown:

Bake Your Holidays Happy ~ $10 off instantly When you purchase any participating 10 items! Mix or Match. All items must be purchased in one transaction. Offer expires 11/09/06. (Refer to Safeway ad for participating products).

Here are a few items worth mentioning:
Betty Crocker Cookie Pouches 17.5-oz. Selected varieties. 2 for $3
USE: Betty Crocker Cookie Mix, any flavor 17.5 oz. or larger .50/1 (11-25-06) 10/01SS (same coupon on Boodle.com or coupons.com)
Final Price: $.50

Betty Crocker Cake Mix 18.5 to 19.5-oz. Selected varieties. BUY ONE, GET ONE FREE
Final Price: 2/$2.29

Betty Crocker Frosting 12 to 16-oz. Selected varieties. 2 for $3
USE: Betty Crocker Cake Mix AND Betty Crocker Frosting, any flavors/varieties .50 (12-16-06) 10/22SS (same coupon on Boodle.com or coupons.com )
Final Price: $.50

Gold Medal Flour 5-lb. All Purpose or Unbleached. 2 for $3
USE: .25/1 @ www.bettycrocker.com
Final Price: $.75
A couple of things to note. Safeway is tripling coupons until 12/26. So all prices above reflect a doubled or tripled coupon where applicable. Also, they are only allowing one $10 deduction per transaction. And today, I found out that if you do two transactions back-to-back, the second $10 doesn't automatically deduct (the cashier told me it should be just one $10 deduction per household). Anyhow, they manually rang it in. And if you pass multiple Safeways on your way home, like me, you're all set!
If you don't want to bother with coupons, you can still make a smoking good deal. Buy 10 cake mixes at BOGO free. It rings up to $11.38 minus automatic $10 deduction = $1.38 (you're basically just paying tax)! I did this at the first Safeway, and a little old lady asked "How did you do that?" LOL. I told her all she had to do was buy 10 cake mixes and use her Safeway card!
You can actually get paid if you plan it right. Of course, they won't really pay you to take groceries, so you'll have to buy something else to make up for the difference. For example, buy 10 cookie mixes, use 10 coupons, and your final cost will be $5 profit. The only problem is, this requires ten coupons from the Sunday Paper, or ten printed out coupons (and each site only allows you to print out two coupons per item).
Oh yeah, and the Totino pizza rolls are currently 10/$10, and you can print out 0.50/1 coupons at Boodle.com, making them FREE! On top of that, on the back of the Totino's package is another coupon for 0.50/1, so you could just keep going back for more free pizza rolls. This sale lasts until 11/28. Stock up on your junk food!
Edit: The coupon on the back of the Totino's is only for the 40-ct, 70-ct, and 90-ct rolls, so it does not apply to this sale (15-ct only). No unlimited rolls
Oh well, if you print the coupons out on multiple computers, you can still score a bunch free! I have a huge bag of these sitting in my freezer waiting for my next party