During our last two days in Zion, we had originally planned to backpack through the Narrows, a dramatic slot canyon with perpendicular stone walls that rise to over 2000 feet. This is without-a-doubt the most famous hike in Utah, and was ranked #5 on National Geographic's list of America's Best 100 Adventures. We had reserved a backcountry permit for a campsite back in March, and then planned our entire trip around the Narrows, intending for it to be the culmination of our trip. However, there was one stipulation — the park service does not allow trips through the Narrows if the flow of the North Fork is in excess of 120 cfs (cubic feet/second). River levels are highest during spring snowmelt, and frequently the Narrows doesn't open until late May or early June.
As luck would have it, the flow hovered right around 120 cfs all weekend, never dropping low enough for the Park Service to open it. Saturday night, Zion Adventure Company was reporting a lower flowrate (about 114 cfs) for the North Fork, and one of the salesmen was trying to talk us into going still (and thereby spending $$ on dry suits). He said something along the lines of "The park service hasn't officially opened the Narrows. Are you still going to hike it (unofficially)?" We weren't interested in getting caught by a park ranger and fined for hiking the Narrows illegally, so we decided to forego our trip. Plus, we could always come back and backpack the Narrows later in the year, when the river was not as frigid and more manageable.
At this point, our group split into several factions. Jenn and her party (hot Swede, sister & sister's bf) decided to take the day hike from the bottom of the Narrows. Terry wasn't interested in staying until Monday, and he had not seen the main canyon yet (he did not join us until late Friday night), so he was going off on his own to take the bus ride up and down the canyon. Mark and I decided not to do our alternate backpacking trip (the Kolob Canyons), since we were pretty tired, and I had not been to Zion before and wanted to do more of the "touristy" things. Like stop at the museum, take the full bus tour, shop at the lodge.
After sleeping in as long as we could on Sunday morning, we hopped on the bus with a fanny pack and minimum supplies to get us through the day. About 20 minutes into the bus ride, however, we decided to do another long hike and went back to the campsite so we could grab our day packs and more water. We had randomly decided to hike Observation Point, with no idea how scenic it would turn out to be. This hike had a little of everything. Magnificent views, fun little side trips into a slot canyon, several different types of geology, beautiful flora, awesome weather. It turned out to be our favorite hike of the entire trip, and definitely our favorite day hike in the park.
We hiked 4 miles, over a 2200 ft elevation gain to get to Observation Point, where the views were absolutely stunning: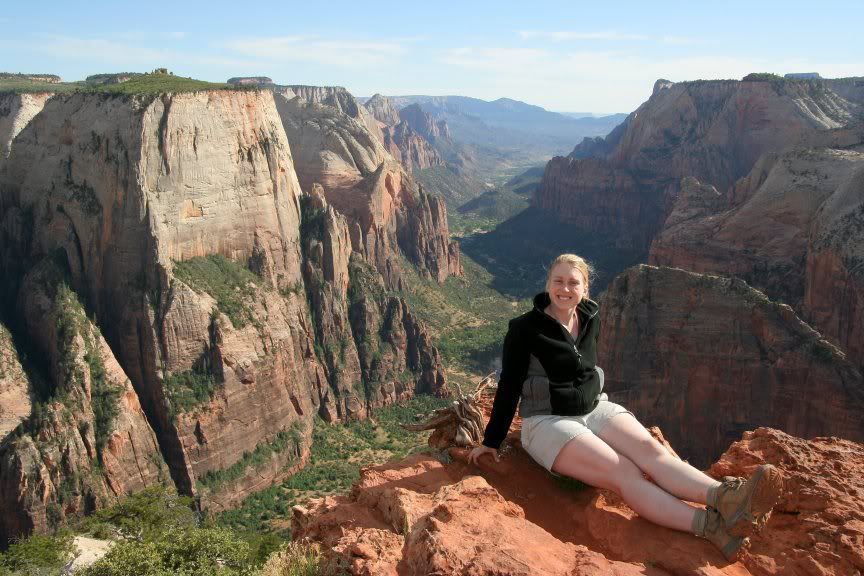 Prescribed burn along the East Mesa. Somehow burned areas always make the most dramatic pictures:
I liked the vivid colors of this rock wall:
Another cool wall. You can see the water-carved etchings in the rock: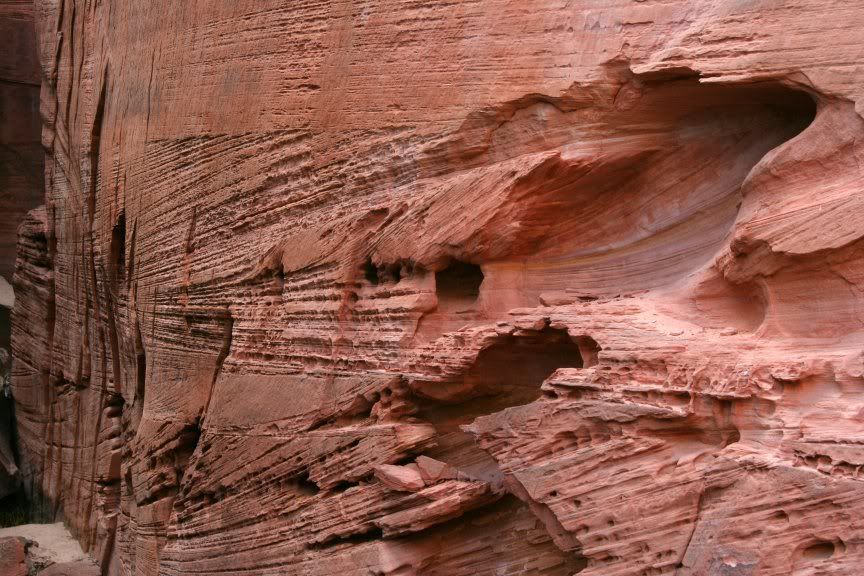 Here Mark is peering down on me from the trail, as I explore the narrows of Echo Canyon: