On the second day (Saturday), we hiked Subway, which is Zion's second most popular backcountry hike. We had lined up at the backcountry window starting at 3:20 AM the day before to get 7 of the 20 walk-in permits available for this hike. There are two ways to hike Subway. We decided to do the non-technical hike, which is a 4.5-mile trek to the Subway and back. It took us 7 hours to complete the hike — much longer than a 9-mile hike on land would take, due to the wading and boulder hopping involved while navigating back and forth across the creek. It is a long, exhausting hike in the hot sun that is rather unspectacular most of the way, until you reach a series of beautiful cascades over red rock formations and "The Subway" — a narrow tunnel-shaped canyon carved out by the Left Fork of North Creek.
We learned three things on this hike:
1) Don't put on wetsuits until you actually have to swim (hiking 1.5 miles in 90°F in a wetsuit is unbearably hot & sweaty). Plus you just look plain goofy.
2) Wetsuits aren't even necessary if you hike out-and-back from the bottom up, since you only ever wade knee deep. The special neoprene socks & canyoneering shoes were nice to have though, preventing our feet from going numb in the icy cold 40°F water.
3) Hiking the Subway would be much more fun as a through hike, from the top down. This route requires some rappelling with a 60-ft rope and swimming through deep pools. However, serious photographers lugging their tripod and other equipment would be better off hiking out-and-back from the bottom up.
Luckily, we ran into a ranger who confirmed #2, so we only hiked a few unbearable miles in the wetsuits before peeling out of them and leaving them behind at the cars. That guy at the rental shop had swindled us out of $30! Oh well. We got some good laughs and some goofy pictures out of it:
About two miles into the hike we saw dinosaur tracks fossilized in two huge slabs of light grey mudstone. They were so inconspicuous that we would have passed right by them if my hiking book had not mentioned them.
As you get closer to the Subway, you have to scale several beautiful cascades: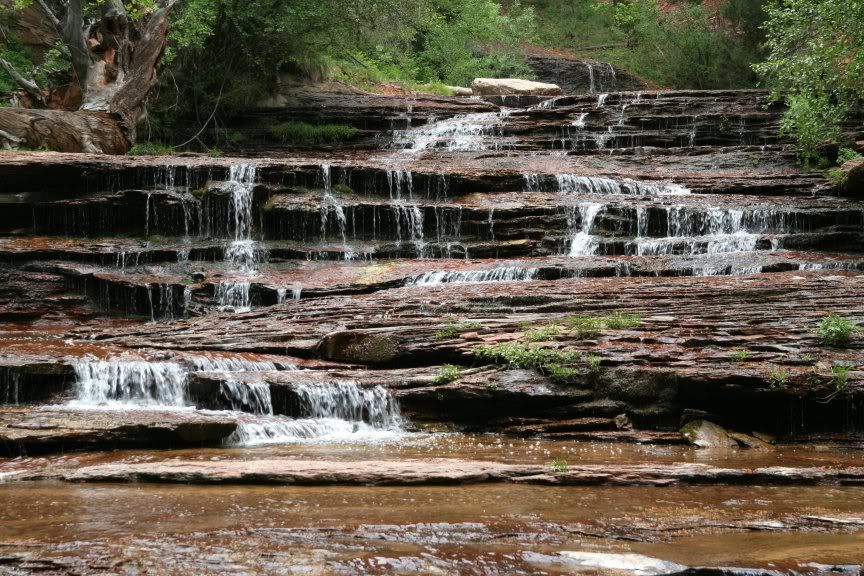 Here Mark is standing just outside the Subway. See how it gets its name?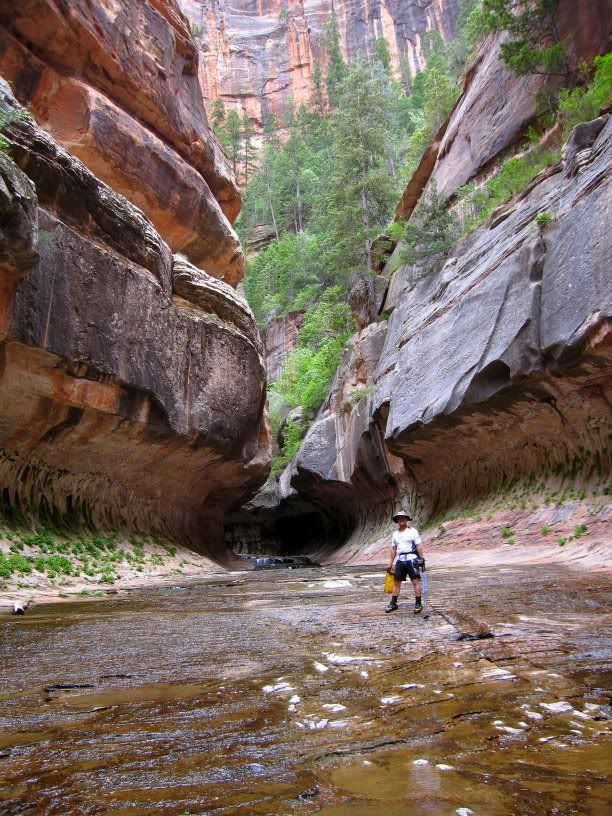 Water runs through the Subway, splashing through the potholes. You can see the water being sprayed up by the wind gusting through the tunnel. (A warm fleece is definitely nice to slip into at this point.)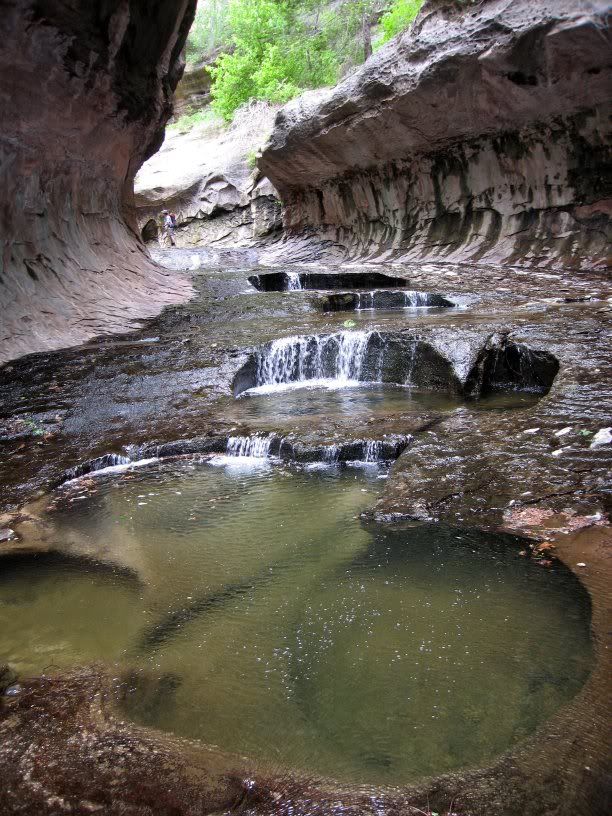 This was my favorite shot, taken from the backside of the Subway. Glimmers of sunlight reflect off the water, and algae grows on the polished rocks, giving them an almost eerie green glow.