Okay, so now I'm reminded that vacations with parents mean lots of down time in hotels. Which was always cool when we were young and didn't have cable tv at home, it was always a treat to watch all the movies we wanted and jump on the hotel beds. But now, I just get to sit around and pass gas and twiddle my thumbs. And play on the internet, which is costing something outrageous like $15.95 a day. At least my sister and I get our own room. That's one step closer to being a grown-up. Heh. It also means we don't have to inhale cigarette smoke all night long. Cough. Cough.
So far, in our 1.5 days in San Francisco, we have gone out to eat at some pretty cool places. Last night we happened upon this quaint little Mediterranean restaurant named "Persimmon." The food was delicious, very fresh ingredients which popped in your mouth. But the highlight of the evening was the dessert (hmm, that seems to be a theme for me…hehe) — now get this, they served a saffron gelato with fresh cherries and pistachios. And, like the waitress said, it tasted a bit odd the first bite, but by the third, you were absolutely hooked. Today we shopped a little at Fisherman's Wharf, took a wax museum tour (not entirely interesting…they don't really look lifelike, in my opinion..a better description would be spooky), and rode a trolley up and down the line to downtown SF. We ate lunch at Pier 43 1/2 at Bistro Boudin. Apparently this is a full-scale restaurant by the same owners of Bistro Bakery, famed for being the first to serve clam chowder in a sourdough bread bowl. Which, from what my mom tells me, is fabulous. To save myself some agony, I avoided the cream and opted for a tomato based soup filled with mussels, shrimp, squid, and dungeness crab and served in a HUGE sourdough bread bowl. Very delicious and VERY filling. The only downfall of the dish was the mussels, which were obviously bad, so I picked them out. I have heard about the variability in the quality of mussels served at restaurants…this was my first experience with a bad lot, and if I have too many more of those served to me, I might be tempted to avoid them. However, well-executed mussels served in a creamy fish stock broth that you sop up with bread when every last delectable mussel is gone is like heaven in the mouth.
We spent a little too much time at lunch eating and talking with the Venezuelan waiter named Antonio, so we didn't make it on a Bay tour today — looking forward to that tomorrow. And I only got a glimpse of the huge Macys at Union Square from the trolley. OMG, if only I were loaded with cash right now. A girl can dream, right? The sad thing is, I've already spent more money in two stores today than I did shopping in the Philippines. Stupid American dollar.
Tonight we dined at Wolfgang Puck's Spago. I got to play around with my new camera in low light conditions, and finally, by the end of the meal, I got some excellent shots of our desserts (mostly by adjusting the white balance). I'll have to play with the other shots in photo shop. But for now, feast your eyes on this beautiful display of mouth-watering goodness: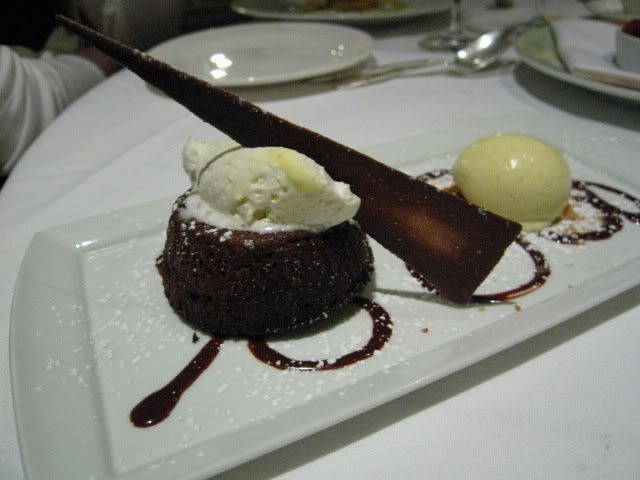 Yeah, I know, what a great photographer. Oh yeah, and the chef gets some kudos too! What a work of art! This was a chocolate ganache cake with vanilla bean ice cream (the ice cream got oooohs and aaaaahs from my sister and mom – dang, I wish I could eat dairy). For my starter, I had a delicious pear and arugula salad with a yummy vinaigrette dressing — I could eat that salad everyday and never grow tired of it. We also got to sample a carrot ginger soup courtesy of the chef. It appears as though I was the only fan — but then again, I love ginger, and this is a combination I've been meaning to try in my own kitchen. NOTE TO SELF: make carrot ginger soup at home. For my entree I had pheasant served three ways — pan-seared, roasted, and sausage. I had never had pheasant before, and I now know it tastes like a heartier version of chicken. Since the meal had already been paid for as part of the whole trip package, and desserts were included, we went ahead and ordered 4 desserts (gluttons that we are). Everyone got to taste them all…and even though we were stuffed, somehow the dessert plates were licked clean. My favorite dessert was the apple gratin, a fancier version of apple pie with all the homemade goodness, served with cinnamon ice cream. The other two desserts were a banana creme pie with caramelized topping and a chocolate pudding filling, and a vanilla bean creme brulee with a fresh berry topping. Three of the desserts were very delicious, and artfully displayed. The only disappointment would be the creme brulee. None of us were big fans, and I figured out that the reason I didn't like it was because the caramelized topping had actually been burnt, so it left a bitter taste with each mouthful. The sugar coating is essential to the creme brulee – and had I not been with my mom, who is adament about not making a disturbance, I would have undoubtedly asked for a replacement. Especially at an establishment like that, where you're paying top dollar. Like $236 for four, top dollar. Was it worth every penny? Probably not. The ambiance was nice, the food was pretty good (not every dish was WOW, but my salad was scrumptious, and Hannah's steak with caramelized onion was a definite knockout), and it was nice to have a foo-foo sit down dinner with my family for once. But like my mom said, it's hard to swallow paying that much for a meal when you walk down the wharf and see homeless people ravaging through garbage cans and begging for money. Ah well, we all know the world isn't fair, and it won't be the first or last time I spend money on a decadent meal.