Interesting fact: 5,000 gallons of paint, in the color "international orange," are used each year to keep the Golden Gate bridge looking spiffy and new.
Today I finally got to see the Golden Gate bridge in all of its glorious international orange wonder, and by three different modes of transportation no less! We drove over it first, on our way to Sausalito. Then we went on a seaplane ride and a tour of the bay by boat. The seaplane tour was definitely my favorite part of this whole family adventure. And I really enjoyed our little jaunt to Sausalito, it's a darling little town. Excellent deli fare. We picked up sandwiches from this awesome international deli with a tantalizing selection of wine, teas, and chocolates that I had no time to peruse…ah, next time I suppose. Good shopping, too. I scored a gorgeous burgandy scarf and Hannah got a beautiful ivory button down coat — though I was really REALLY disappointed they didn't have this stunning white jacket in my size. **Pout** And, just so you know, I am currently accepting all generous donations in the form of cliff-dwelling mansions in Sausalito (ahem, clears throat, anyone?).
Here are a few shots taken during our seaplane tour. The first is of the family before we boarded: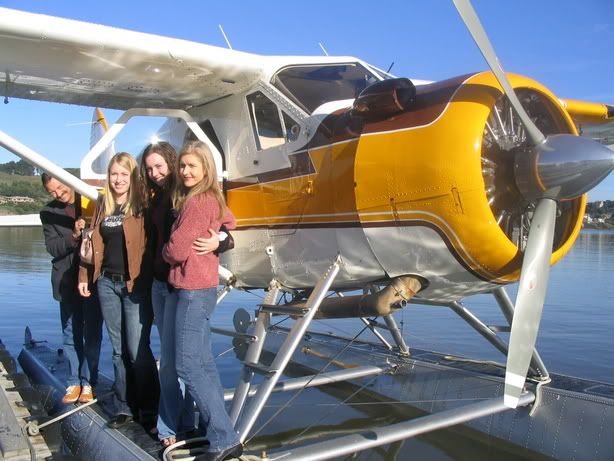 Here's the golden gate from overhead, with Angel Island in the background: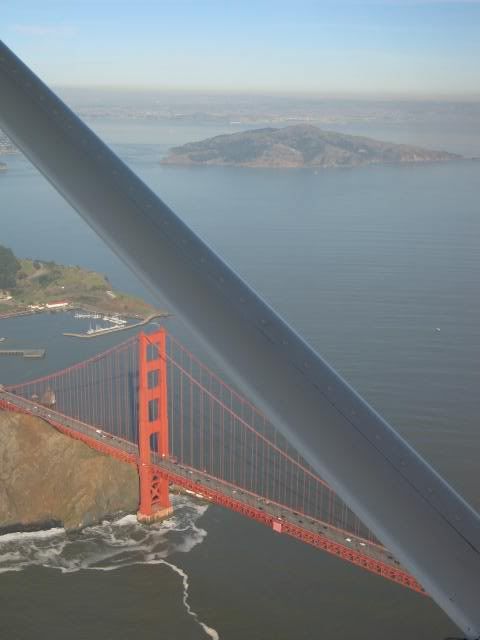 And the Golden Gate again:
And again:
And here's an overhead shot of San Francisco, with the Bay Bridge and Oakland in the background.